Independently Rated #1 for Seven Years!
Each month we'll deliver a two new and delicious selections of premium, seasonal and exotic fruits harvested on-demand and express-shipped from our worldwide network of award-winning growers for maximum flavor and freshness. Our monthly deliveries average a generous five pounds in weight - the best value of any monthly fruit club -and each delivery is covered by our unbeatable "They'll Love It!" Guarantee!
Personalized Gift Announcement
You can choose to send a gift announcement by mail or email or you can print it from your computer for the ultimate in last-minute gift giving! Your gift announcement will include your personal message, details for your recipient about their gift membership, and their delivery schedule. View a sample gift announcement
Fruit Lover's Newsletter
Each monthly delivery includes our informative fruit lover's newsletter, The Fresh Express, with information about our monthly selections, fun fruit facts, profiles of our growers, and more!
FREE SHIPPING Every Month!
As Featured On...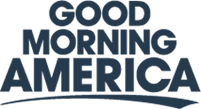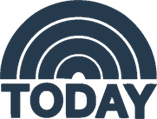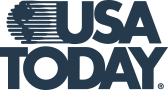 As Featured On...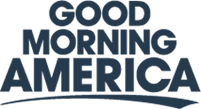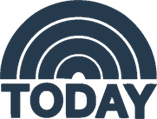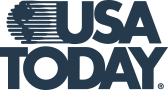 Customer Reviews
Customer Reviews
---
Best Fruit Club!
Sassy One | New York, NY
I read several fruit club reviews before I chose this one which have very good reviews about the freshness of it's items. I bought this as a 6 month gift and was very happy to know that they were quite excited about it. The fruits were very fresh and the monthly variety was something to look forward to!
Perfect Gift
VtRD | North Bennington, VT
Originally I ordered this through a rewards program. The program then removed it as an option, but I had to have it so I ordered a six month gift for myself. I love getting new fruits every month, and they are always top quality. Fruit is such a healthy option --thanks for offering it.
oranges
orange tree | Janesville, WI
everything seems to be fresh and tasty
excellent gift idea
perfect gift | Hartland, WI
I bought this gift for my 96 year old father-in-law for Christmas. Every year I struggle to figure out what to buy him. He has enjoyed this gift of fruit so much that he even asked for it again this year. The fruit is always fresh and the highest quality.
My dad loved it
Kathleen | Las Vegas, NV
He said I don't need clothes or gadgets but I loved the fruit. It came every other months all year long (6 month club). It was something different each time.
Fruit of Month Club
Happy | Addison, IL
We received the membership from a family member who had spent some time with us. So far, we have only received one gift, but the fruit was excellent. Asian pears and regular pears were in our gift box. The nice thing about this club is that not only is the fruit delicious, but the send a selection that introduces you to new items.
Good Gift
lbrogers | Chicago, IL
I bought this as a gift for my father. Overall he really enjoyed it. I did a package of 1 delivery per month for 6 months. I would do this differently in the future. Probably once every 2-3 months bc once a month was a little much. The information about the fruit was very good. There were some fruits that he wasn't very keen on like the pomegranate. He likes simple fruit that can be cut up in a salad. It did expose him to different fruits which I liked.
Good Fruit
Rosekies | Ithaca, NY
There was a great assortment of fruit plus you can choose how you want to receive it. (You can go over six months or a whole year, every other month or every month.) So many options.
Yummy
maddie | Erie, PA
I have enjoyed the 3 shipments of fruit that was delivered. The fruit was wrapped or in its own little compartment so it would not be damaged. Best thing the fruit was fresh.
Great gift idea!
tamcccslp | Wesson, MS
This is the perfect gift for someone who is impossible to buy for! This was a father's day gift for my husband and he has loved every shipment.
Yum!
peachykeen | New Orleans, LA
My mom got me the fruit of the month club for an Easter gift, and it was awesome. The fruit was always delicious and in varying states of ripeness, so it lasted awhile.
Fruit club
Ann C | Bradford, NH
The fruit was very fresh and the portion was good also. Good variety.
Perfect gift to share
OfficeMGR | Madison, WI
I needed something that would work for an entire office. I was also tired of donuts and cookies and sweets. We get that all the time. This gift has been a huge hit and we'll be ordering the same thing again this year. The presentation every month is really good. The fruit is AMAZING!
A great HEALTHY gift
BonnieBryce | Salt Lake, UT
Fun to give and even more fun to get. A really healthy gift. The selection have been very nice. Much better fruit than I can get locally. The newsletters are fun.
Way Better Than Other Fruit Clubs!
KyleDD | Lancaster, PA
This is the third time weve gotten a fruit club as a gift, but the first time it was from Amazing Clubs. This is definitely the best one. Better fruit, seemed fresher than the others. I think it was more fruit, too, then the previous ones. We really enjoyed it.
Highest Quality
Products Every Time.
Get the Lowest Price
Guaranteed!
Slide left to
compare our
competitors.
Customer service 7 days a week?
'They'll Love It' guarantee?
Over 10 years experience?
Free Shipping?
Quantity Delivered?
Fruit varieties per month?
Rated #1 by Top Ten Reviews?
Guaranteed lowest price?

GreatClubs.com
(aka ClubsofAmerica.com)
close
Your Personalized Gift Announcement
Gift card measures a full 6" x 4 1/2" and arrives by mail in an envelope addressed to your recipient.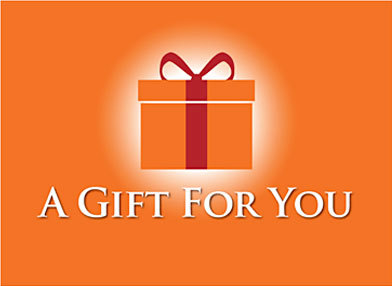 (front)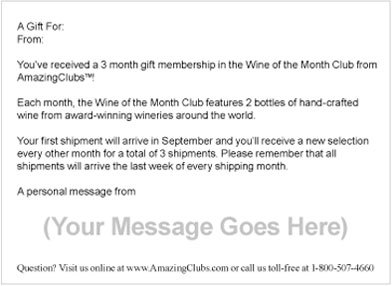 (back)
back to top